WEEK OF JULY 20, 2020
July 20th, 2020 by Stacie Linfor
FOR SALE:  fishing equipment: rods, reels, full tackle boxes, minnow buckets, all $1.00 and up.  Also, mechanics wrenches, open end, combination or individual sets starting at $1.00 and up.  And, electric fence charger, Parmak 110 volt, low impedance, factory re-built, never used, kept as a spare, $100 and up.  Call 712-799-4794.
FOR SALE:  Small roll-top desk with shelves and drawers.  Measures 32 inches wide and 84 inches tall.  $20.00.  Cirus Motorcycle Helmet.  Size: x-large.  Used very little.  $20.  Solid Oak Podium.  25 inches wide and 42 inches high.  With shelves.  $10.00.  Call 712-243-5512.
FREE:  I have several Cat's and kittens to choose from. They are very active and good mousers. They would clean up your Barn or building and make great affectionate pets. Just make a bed for them and they will stay around.  (712)590-7001.
FOR SALE: Xbox 360 game system with controller and power cord $75. 402-506-0787 in Lewis.
FOR SALE: Kitchen table & 4 chairs (2 captain, 2 shorter chairs, all swivel), round counter height, light colored oak, very good condition, glass top included $50; dining room table & 4 chairs (2 captain, 2 straight), dark oak, faux top, 2 leaves, good condition. $50. 712-249-1415 SOLD!
FREE: Two office size desks.  One is 60 inches by 30 inches, has three drawers and comes with an attached credenza.  The other is 72 inches by 30 inches, has four drawers and has a curved top.  Both desks are wood but have a Formica top.  Both are in good condition.  712-243-5512 in Atlantic.  CLAIMED!
FREE:  Two, four drawer metal file cabinets in good condition.  All items are in a basement and must be moved by the buyer.  712-243-5512 in Atlantic.  CLAIMED!
FOR SALE: Handicap scooter. Not a real large unit. Charger and loading ramp included. $175. Call 712-243-3073. Leave a message if no answer. SOLD!
FOR SALE:  John Deere straight shaft weed eater, starts and runs well, $75.  Also, two 1/2″ air impact wrenches that work well for $45 each.  And, a King drill driver, 14.5 volt with charger and extra battery, $40.  Call 712-304-4998 in Hamlin.
FOR SALE:  a Black and Decker trimmer/ edger comes with battery pack for $10.00.  Also, free aluminum extension ladder, 13 feet.  Call 712-249-3173.  SOLD!
FOR SALE:  Craftsman radial arm saw, excellent condition, $100. (712)249-5290.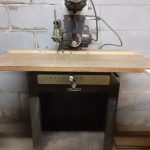 WANTED:  Used X Box game system in good condition. (712) 249-5286.
FOR SALE: Gauge & hose for acetylene tank. $40. 712-323-4980.
WANTED: New or used freezer to loan or purchase for the Atlantic Food Pantry. 712-243-1820 – leave a message.