Large structure fire in Bridgewater Sunday morning
July 12th, 2020 by Ric Hanson
Firefighters from more than a half-dozen area fire departments were called to a large structure fire in 200 block of 280th Street (W. 1st Street) in Bridgewater, Sunday morning. The page went out at around 12:30-a.m.  Crews from Bridgewater, Adair, Anita, Atlantic, Fontanelle, Greenfield, Massena, Orient and Wiota were all requested to provide mutual aid. Atlantic's aerial (or, ladder) truck was requested at 1:24-a.m. Tanker trucks were provided by Anita, Wiota, Orient and other departments.  Sources say water was being drawn from a dry hydrant at Mormon Trail Lake, near Bridgewater. The Adair County Ambulance was also on the scene to provide fire fighter rehab.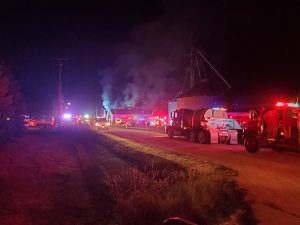 Flames were still shooting through the roof of the building, at around 4:15-a.m. By 5-a.m., most of the fire departments were released from the scene. Bridgewater Fire crews were expected to remain on-site for several more hours while the building smolders, and to knock down any flare-ups. (Update 6:40-a.m.) – Just before daylight, a construction excavator was brought-in to gain better access to, and containment of, the flames.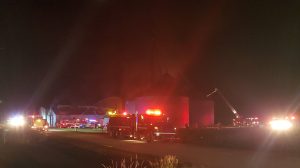 The structure was apparently being used to store hay.
Additional information, along with a cause of the blaze, was not immediately available.