WEEK OF JUNE 15, 2020
June 15th, 2020 by Jim Field
FOR SALE: Desk with 1 drawer, 49″ long $50; roller chair $25. 712-249-9650
GARAGE SALE:  Multi-family Garage Sale: 1201 Maple St. Atlantic. Friday afternoon and Saturday morning. Bicycles, snow blower, patio umbrella, shoes, clothes, appliances, fencing, chrome tailgate, file cabinet and boxes, collectibles, lots of misc.
FREE:  Free-picnic table metal frame good boards are fair.  Free-carpet shades of gray enough for 12 x 8 space.  Free-150 genealogy magazines Iowa and other states.  Virginia Borkowski 51698 Pioneer trail Elliott, Iowa 712-370-2538.
GARAGE SALE: Friday, June 19th 8-5 pm, Saturday, June 20th 8-noon, 804 E. Mahogany, Atlantic. Books, masks, crafts, toys, clothes, lots of misc.
GARAGE SALE: Friday, June 19th 2-6 pm & Saturday, June 20th 8 am – 2 pm, 1401 E. 7th St., Atlantic. Misc. household items, dishes, linens, no clothing, 1980 Kawaski 440Z motorcycle, it's old but runs great.
FOR SALE: Craftsman electric weed eater, runs on 110. $20. 254-3473.
FOR SALE:  John Deere straight shaft weed eater, starts and runs well, $85.  Also, two 1/2″ air impact wrenches that work well for $45 each.  And, a heavy duty load binder in good shape for $50.  Call 712-304-4998 in Hamlin.
FOR SALE:  This is a cedar wood tree slice end table with wood legs. I'm asking $50 for it.  Call 712-249-9242.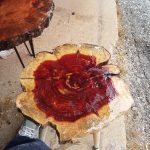 FOR SALE:  This is a maple tree slice end table with hairpin  legs. I'm asking $100 for it.  Call 712-249-9242.
FOR SALE:  6 bags of course solar water pellets.  Asking $4/bag or $20 for all of them.  Call 712-250-1418.
FOR SALE:  Yamaha Surround Sound system  (HTR-5730) AV Receiver…Complete with 5 speakers, great sounding with big bass sound. Real good shape.  Call: 712-249-0077 Make an offer.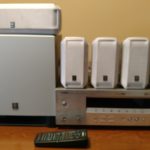 FOR SALE: 2 Samsung Galaxy smartphones, nothing wrong with them, excellent condition, have both been in black Otterbox cover since new. 1) Samsung Galaxy S7, black, $150. 2) Samsung Galaxy S4, black, $50. Call with any questions, can email pictures, located in Audubon. 515-971-8410.
FREE: Kittens. 712-549-2272 (Brayton)
FREE:  I have a pull behind trailer spreader to give away.  Needs new tires.  Item located in Atlantic.  Call 712-249-3558.  GONE!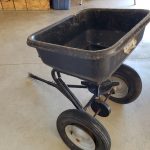 FOR SALE:  One sheet 4′ x 7′ x 5/8″ fire resistant drywall – $6.50.  Also, one 16 1/2″ high Galvanized Steel Window Well with 37″ diameter opening –  It was only in the ground for one week.  Like new – $18.   And, Hudson brand lawn or garden sprayer – 3 gallon size – Good condition, although it drips a little bit from the handle when spraying – $10.  Items are located in Exira.  Call 515-681-5997.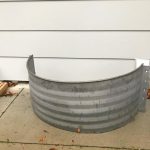 FOR SALE:  2005 3.8L Chrysler Town & Country Touring Addition handicap van 86,100 miles, new brakes, good tires, runs great! front seats removable remote passenger side foldout ramp $10,900
641-344-8048, jc2027@yahoo.com.