(Update) House leveled north of Atlantic; No injuries
June 1st, 2020 by Ric Hanson
Atlantic Fire Department personnel were called to the scene of a residential structure fire Sunday afternoon. The call about visible flames at 60091 Boston Road went out at around 5:40-p.m. Fire Chief Tom Cappel said the house was fully engulfed in flames by the time they arrived, minutes later.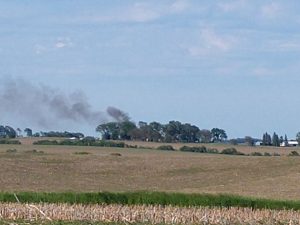 The flames were easily visible from Chicago Road, which is about one-mile south of the burning residence. Smoke was visible for as much as three-miles away. Marne Fire was requested to bring their tanker truck to the scene.
Cappel says the cause of the blaze remains under investigation, with the State Fire Marshal's Office assisting in the investigation.