WEEK OF APRIL 20, 2020
April 20th, 2020 by Jim Field
FOR SALE: Friesen 220 Seed Tender. New motor, clutch, belt, and cable. $4,900 OBO. Call 515-250-8179. Located by Adair.
FOR SALE:  HP Envy 7640 All in One Printer, Excellent condition, lightly used in home All in One Printer. $55.00 (no longer needed) .  Call cell phone no: 319-493-8082 if interested.
WANTED:  Medium size garden tiller, in good condition, starts easily, reasonably priced. Cell #: 319-493-8082. Located south of Atlantic.
FOR SALE: 152 gently used, light oak Wilsonart Flooring planks 7.5"x 46.5". Eight planks cover 20 sq ft. Planks are in excellent condition. Asking $250 for all or $2/plank. Also, 42 odd sized planks that match the full-sized planks for $20.  Call or text (712)249-6912 if interested.  SOLD!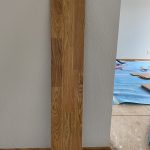 FOR SALE:  I have a lawn chair for $10.00 SOLD! and the set of 2013 all 16 count in their original packaging McDonald's Smurfs. Asking $25.00 for set. Contact # 712-249-7699.
FOR SALE:  I have an outdoor table and chairs that could also be used inside as well. Sturdy metal and in good condition. Asking $50.00 (firm).  Contact # is 712-249-7699. SOLD!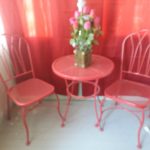 WANTED: Looking for a used canoe. Can be something in good shape or would look at something that has some damage as well. Any size. Call 712-789-1036.
FOR SALE:  This is a 1.5″ thick and 35″ diameter wood cookie. It would make a really nice coffee table or end table. It's raw wood unfinished and dried I'm asking $40/ OBO. Please call 712-249-9242 ask for Tim.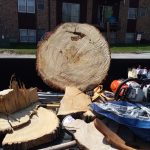 FOR SALE: 2 heavy duty 1/2″ air impact guns, both work fine $45 each; 20″ MTD push mower, works fine $60; 6,000 btu GE window a/c, 115 volt, 2 years old with remote $75. 712-304-4998 (Hamlin)
FOR SALE: Cub Cadet 40″ mower deck for models 109-129. 3 blades & 2 new spindles, deck is in good condition. Asking $75.00 , cash only. If interested call 712-784-3894 or 712-249-7622. (No text please).
WANTED:  Looking for good used gas stove. 641-740-2023.
WANTED:  A few bales of straw or grass hay to for garden mulch.  Call 712-249-0773.  FOUND!
FOR SALE: Four 2-man saws for $15 each and 5 horse collars for $15 each, firewood FREE. Call 712-323-4890.
WANTED:  Looking to purchase a pole saw at a reasonable price.  Call 712 254-9154.  FOUND!
FREE:  Lots of free indoor and outdoor items. At the curb on East 18th Street, just off of Redwood Drive in Atlantic. Today and possibly Tuesday.  ALL GONE!
FOR SALE: 1) 2 sets of golf clubs. One set is Northwestern brand the other is Delta, both are right-handed and include woods, irons and putters. $50 each set. 2) 2 pair of brand new golf shoes. 1 pair are size 13M Footjoy. 1 pair size 12/13 Wilson white. $10 each pair. 3) 1991 Ford Lariat 1/2 ton 4WD, manual transmission, brown metallic with new tires, brakes, belts, hoses, leaf springs, starter/alternator, thermostat, new head, muffler, tail pipe and tailgate.  Asking $2500. Call 712-243-2860.
FOR SALE: Receiver Hitch with a 5/16″ ball. Asking $20.00. (Firm) Contact # is 712-249-7699. SOLD!

FREE: Three gray, leather recliners. One is a manual recliner, the other two are power recliners. Call 712-249-8750.
FREE:  Two very friendly cats, housebroken, can deliver.  Call 712-210-4780.