Cunningham's big 4th quarter lifts AHSTW over Tri-Center
January 14th, 2020 by Chris Parks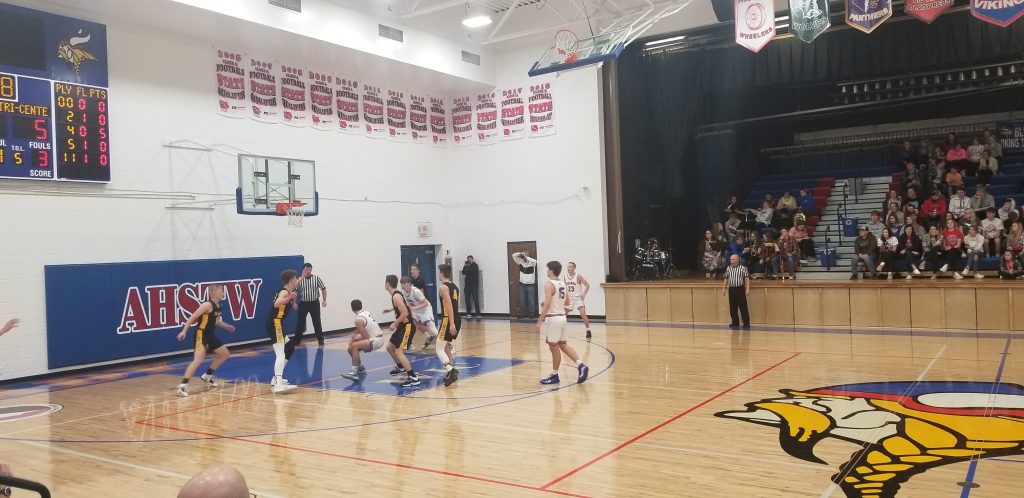 Joey Cunningham scored all 13 of his points in the 4th quarter and AHSTW edged out Tri-Center 57-54 on Monday night in Avoca. It was a great back and forth battle for most of the night with 15 lead changes in the game. Cunningham broke it open for the Vikings late with three straight threes and also took a charge in a stretch that turned a 43-all-tie into a 9 point lead for the Vikings. Cunningham said it was a great feeling to come through for the team.
Tri-Center led by one at the end of the half 23-22 and also held a one point edge going into the fourth quarter at 36-35. The Trojans used zone pressure to really test the guards out high for AHSTW and Viking Head Coach GG Harris said it was great to pick up a win in that type of game.
Harris thought the guards handled the pressure that was thrown at them pretty well.
Cunningham led the Vikings with his 13 points. Three other players ended in double figures with Sam Porter dropping 11 and Michael Mantell and Clayton Akers both with 10. The Vikings improved to 9-1 on the season and Cunningham said it was fun to play in a tight game like that.
Tri-Center was led by 18 points form Ethan Alfers and the Trojans fall to 8-2 on the season. They travel to Logan-Magnolia tonight. The Vikings go on the road to Riverside this evening.