WEEK OF NOVEMBER 18th
November 19th, 2019 by Jim Field
FOR SALE: Admiral side by side fridge/freezer with ice maker, works well. $125 obo. 712-249-8750.
FOR SALE:  22' cubic foot Amana side by side refrigerator.  Works fine – got replaced due to a remodel project.  $200, cash and carry in Atlantic.  712-243-4592 – if no answer, please leave message. SOLD!

FOR SALE: 2 Firestone Winterforce tires, size P245/70 R16 on Chevy 16″ 6 bolt steel wheels, around 4,000 miles on them, used 2 winters. $100. 712-249-1804 after 5:30 pm.SOLD!

FOR SALE: Excel 2 ton motor crane $200; 2 oxygen tanks, acetylene tank and hoses, cutting torch. $300 for all. 712-323-4890. SOLD!
FOR SALE:  2004 Buick LaSabre Limited, 113,000 actual miles, Leather heated seats, sun roof, beige light tan color, new battery, very little rust, no dents or scratches and never wrecked.  Asking $3,250.00. Walnut area. Telephone. 712-784-3677.
FOR SALE: Pronto M51 power chair with sure step. Complete with charger, brand new batteries and owners manual. Good clean power chair that works great. Comes from smoke free, pet free home.  $1,200.00 Call 712-249-4625.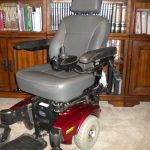 WANTED:  Looking for someone I can hire to make a tied fleece blanket for me. Ph. 712-254-6842  FOUND!
FOR SALE: Get her something she REALLY wants for Christmas…..two tickets to the Broadway show Les Miserables, Saturday, January 18, at 7:30 PM at the Orpheum Theatre in Omaha, GREAT aisle seats, three rows from the stage, center section $90 each. Call and leave a message at 712-249-1994.  SOLD!
FOR SALE: Several fishing rod/reel combos. The poles are 808's and 888's, river style rods, asking $20 each. Also have 50-100 packages of brand new Eagle Claw hooks, 5 hooks per bag, #1/0 and #2/0 sizes, $0.50 per bag. Also have several sizes of weights if wanted to add in. Call 402-506-0787.
FOR SALE: An International tractor. Not running; A pickup load of firewood – split delivered and stacked for you. No prices given. Call 712-420-3016.