WEEK OF OCTOBER 14, 2019
October 14th, 2019 by Stacie Linfor
FOR SALE: 1) 2 Sears high pressure washers. 1 big and 1 small. Both need pumps. $60 for both together. 2) Briggs and Stratton motor for a Craftsman Tiller, engine is new but the tiller is beat up. $100. 3) Anitque tools and wooden pulleys, call for details. Call 712-249-0233.
HUGE GARAGE SALE:  1 1/2 miles North of the 5X80 Country Club on HWY 25, 3455 Hwy 25 Casey IA 50048.  Friday October 18th 3 p.m.-6p.m, Saturday October 19th 9 a.m-3p.m, Sunday October 20th 10a.m.-2p.m.  Lots of New Avon, Some Antiques, Indoor & Outdoor Holiday Decorations, Restaurant Booth, Round Table with 4 Chairs, Lots of Cookbooks/Books, New Toaster/Convection Oven in Box, New Griddle in Box, Large Boxes of NEW Bows, Boxes and Wrapping Paper, Miss Me & Rock, Jeans Sizes 24 25 26  & 27, Name Brand Clothes, Shoes, Purses and Belts, Jackets, Winter Coats, Vests & Gloves, Women's Sizes 4-16, Men's Sizes M-XXL, Lots of Misc. Items!  Don't Miss This One!!  Rain or Shine come visit us in the Morton Building.
WANTED:  A wardrobe about 3-4 feet long with hanger space.  Call 712-308-1944.
FOR SALE:   White round enamel/steel vanity sink has rim (fits into an 18 1/4″ hole). With rim it measures 19″ and depth is 6 1/2″.  It is a light weight sink. It is an older sink but would be good for a wash up room.- $4.  Hudson brand Lawn/Garden Sprayer – 3 gallon size – Good condition.  It is an older sprayer so it is more heavyweight than the newer ones. – $10.  Both items are located in Exira.  Phone 515-681-5997.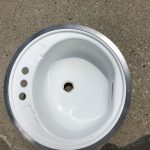 FOR SALE:   Old parts and engine manuals for small engines.  Some are specifically for Tecumseh and Briggs & Stratton engines.  If interested, call 712-249-6202.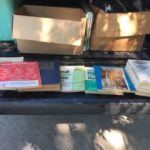 FOR SALE: 3 like new all season tires and 1 good spare P235/70R15 on 5-bolt rims.  $225 cash only.  712-579-5787.
FOR SALE:  20′ Spirit Guide trailer with pushouts and canvas covering.  Needs some work.  FREE. GONE Log Splitter, $500. 2 Barber chairs, call on price. Call 712-323-4890.
FOR SALE: 50 – black creosote posts, 5″x 8′. $5 per post. 712-579-6068 (Audubon)  SOLD!
FOR SALE: beautiful, full, artificial Christmas tree, 7 ft. tall, high quality. $40. 712-243-3048.  SOLD!