WEDNESDAY, SEPTEMBER 4th
September 4th, 2019 by Jim Field
FOR SALE:  Make Offer, CB radios/ antennas/ scanners. If you are interested in any of these items, please call 712-249-6202.
FOR SALE:   Brand new 6 panel solid oak interior door.  Right hand. 36″W 82″ 1/2 H. Satin nickel hinges.  Lists for $190 but selling for $90.  Call 712-254-9154 TODAY before it's gone!
FOR SALE:  Gibson portable dishwasher. Unit was purchased but not connected to water. $100. If interested call 712-249-6202.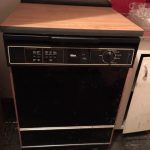 LARGE GARAGE SALE: 4th & Court St. Lewis, IA, Friday Sept. 6th 3-7pm and Saturday Sept. 7th 8am-12pm, Dishes, some furniture, bedding, music, crafting items, lamps, Cuddle Duds, throw pillows, seasonal items and much more.
FOR SALE: 28″ Airens riding mower, 11 hp Briggs, needs belt for blades. $80. 712-243-2361. SOLD!
FOR SALE:  Shakespeare split bamboo fly casting rod with leather case.  This is an antique.  Looking for the best offer.  Call 712-764-5111.