THURSDAY, JUNE 20th
June 20th, 2019 by Jim Field
NEEDS A NEW HOME:  This is Jake. He is a 1 year old Australian Shepherd Pitbull mix. He is great with kids, other dogs and cats. He is potty trained, kennel trained and knows some basic commands. He is a great dog. He is very lovable and high energy. He needs an active owner or room to run. He will come with a kennel, dog bowls, a leash, a cable, some toys and his remaining dog food. Jake is free to a good home. $50 for all supplies. Call or text 515.669.2039. Located in Anita.  SOLD!
LOST DOG:  "Sky" Please call: 712-249-0959 or 712-254-1231.  Black & White Female Border Collie.  Not wearing collar, but is micro-chipped.  Last seen near Orscheln's on 6/12/19 around 11:00 AM.  Reward for safe return!!!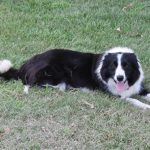 WANTED:  a good used log splitter on wheels.  Call 712-243-2408 and leave a message if there is no answer.
ESTATE GARAGE SALE: 902 East 9th St. in Atlantic:  Friday June 21st from 1-6 pm. Saturday June 22nd 7am-1pm. Rain or shine!!!! A lot of Disney collectables, knickknacks, toys, women's clothing 1x & 2x., size 8 shoes, costume jewelry, furniture, housewares, books, many brand new items, SO MUCH HOLIDAY STUFF, & so much more. All priced to sell & a little something for everyone!