MONDAY, MAY 6th
May 6th, 2019 by Jim Field
FOR SALE: A Westinghouse electric cook stove w/4 burners (not a flat-top stove). Off-white color. $40. Call 712-404-0656.
WANTED:  Kitchen cupboards, call 515-314-9922.
WANTED:  2 – 55 gallon steel drums, call 712-420-3016.
FOR SALE:  Ford Ranger topper, white, 6 foot, tinted glass, new screens and new locks.  $300 cash. 712-249-9041.
FOR SALE:  Two tickets to "Miss Saigon" at the Orpheum Theatre, Saturday night, June 1st, orchestra section, Row C on the aisle, Seats 101 and 102, $82.00 each.  Please call and leave a message at 712-249-1994.
FOR SALE: Aluminum folding ramp for ATV.  Asking $50.00 Phone 712-249-2905 in Exira.  SOLD!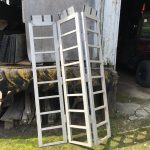 FOR SALE:  20″ DynaMark push mower, runs fine, $40.  Also, a 21″ Lawn Boy self-propelled mower, runs well, $75.  And, a Delta table saw, older model, works fine. Asking $100. Call 712-304-4998 in Hamlin.