A Pottawattamie County man was still at large as of late Monday evening after Glenwood police said he was involved in a wreck during a pursuit and fled on foot from the scene. The Glenwood Police Department was asking for the public's help in providing any information as to the location of 28-year old Rodney Kephart Jr., of Council Bluffs.
Authorities said Kephart has an active warrant out of Council Bluffs. His probation was revoked as of Dec. 30th. His bond was set at $5,000. Court records show Kephart, Jr. had plead guilty late last November, to carrying a concealed weapon, possession of burglary tools and assault on persons in certain occupations.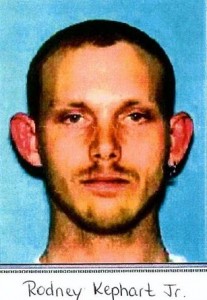 According to the Iowa State Patrol and Glenwood Police, the events leading up to Kephart's escape, began when a Glenwood Police Officer tried to stop a maroon Ford Focus at around 6:15-a.m. The car, driven by 25-year old Jennifer Neal, of Council Bluffs, took off and ended-up colliding with a semi after Neal blew through a stop sign near Highway 34 and Hilman Road. Neal was taken by ambulance to CHI Health Creighton Medical Center in Omaha. The driver of the semi was not hurt.
Police said Kephart was a passenger in the vehicle. The search for him involved Glenwood police with K-9 units from Fremont County and Council Bluffs, as well as a helicopter from the Omaha Police Department, Iowa State Patrol and the Mills County Sheriff's Office. Anyone with information on his location should contact local law enforcement or the Glenwood Police Department at (712) 527-4844.