Iowa Lt. Governor Kim Reynolds, the City of Creston and Connect Iowa officials, Tuesday, recognized the city of Creston as the fifth community to become a Certified Connected Community in the state, and the 21st in the nation. More than 30 residents and community leaders attended the celebration event at the Creston Chamber of Commerce, where results of an assessment and details of the county's new technology action plan were unveiled. The event also included Union County unveiling its technology action plan, which will make way for greater technology use across the entire county and pave way for a brighter economic future.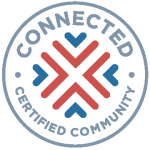 Lt. Governor Kim Reynolds said "Governor Branstad and I launched the 'Connect Every Iowan' initiative to increase access, adoption and the use of broadband technology in Iowa." She added "I commend Creston and Union County on completing the extensive assessment and planning process in order to be recognized as a 'Certified Connected Community.' I'm confident that the community will use this designation to increase the robust economic development efforts in Creston and across Union County."
Connect Iowa's Connected Community Engagement Program provides a framework that communities can use to work toward Governor Branstad's goal to Connect Every Iowan. In October 2013, he announced that the Connect Every Iowan initiative would leverage the Connected program to support local broadband planning efforts in communities across the state.
Ellen Gerharz, Creston Chamber of Commerce executive director, said "Creston is extremely proud of being recognized as the fifth Certified Connected Community in the State of Iowa. It is a real testament to our many businesses and broadband providers that Creston has attained this goal."
The city of Creston and Union County have been working over the past 2 years with Connect Iowa to assess the local broadband landscape, identify gaps, and establish goals and objectives to increase broadband access, adoption, and use for families, organizations, and businesses throughout the counties. The city of Creston was able to meet the point requirements necessary to achieve the Certified Connected Community status, while Union County continues to work toward certification.
The Connected program is a national model designed by Connect Iowa's parent organization, Connected Nation, to establish a framework for broadband expansion planning at the community level. The U.S. Department of Commerce NTIA State Broadband Initiative program funds the Connect Iowa initiative. Connect Iowa is working to facilitate the access, adoption, and use of technology throughout the state.
(Press Release)