March 30th, 2015 by Jim Field
By Haley Carlson
Atlantic FFA Reporter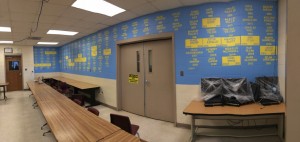 With 165 names, the Atlantic FFA Wall of Fame is not complete, but officially up to date. The Wall of Fame is located in the Atlantic High School Ag Room, on the north wall. It has every Atlantic FFA member that has received an Iowa Degree or an American Degree. Iowa Degree blocks are painted blue with the member's name and the year they received their degree. America Degree blocks are painted yellow, with the member's name and two years: the Iowa Degree year and American Degree year. This year the Atlantic FFA has two seniors, Adam Freund and Savannah Sorenson, receiving their Iowa Degree in April. Also the four 2014 graduates, Kristin Johnk, Chancey Richards, Wyatt Saeugling, and Tucker Sager, received Iowa Degree and are now working to receive their American Degrees in November.
The project began in early 2014 with Advisor, Eric Miller and senior officers, Kristin Johnk, Wyatt Saeugling, and Tucker Sager beginning the wall project. They started by finding the records all of the degree recipients. The north wall of the ag room was painted completely blue and names and years were attached to each brick. Those who had earned an American Degree had their brick repainted yellow. Saeugling and Sager then took a pencil to create a straight line reference for each name. Johnk along with current members, Haley Carlson, Emily McDermott, Marshal McDermott, Garrett Schwanke, Tyler Petty and non-member Erin Olsen continued the project by stenciling in names during their free time. Over the summer members continued by filling in the stenciling with paint; blue bricks had yellow lettering and yellow bricks had blue lettering. Members, Haley Carlson, Emily McDermott, Aubrey Schwarte, Gabby Jordahl, and Mariah Cook all have been working hard on the wall in the 2014-15 school year. Over spring break, Haley Carlson along with her sister, Hannah, and sophomore Gabby Jordahl completed the painting and removal of pencil lines from the wall. The Atlantic FFA Wall of Fame looks fantastic and the chapter is very thankful to all of those who have dedicated their volunteer time to this project. This wall will continue and impact the lives of Atlantic FFA members for years to come.
Freshman, Blake Pelzer gave his thoughts about being on the wall of fame, "I do want to have my name on the wall because having that is a big accomplishment. I think it (the wall) is good because it makes you feel noticed."
Emily McDermott said, "The project was fun and it took a lot of time, but the wall is finally complete and it looks great!"
Junior, Erin Olsen is not a current FFA member but a part of Mr. Miller's home room class. Olsen said, "I just did it cause I wanted to help out and it was something that looked fun to do in my free time."
Kristin Johnk commented, "It took a lot of patience to work on it but in the end, it is a great way to honor those who have put hard work and dedication into their SAEs in order to get these degrees as well as those who still support this great organization (FFA). It is a great feeling to have my name among those who have achieved their Iowa Degree and hopefully be one of the elite members of the chapter to get my American Degree as well!"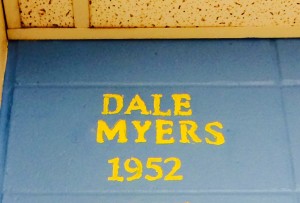 Dale Myers is the very first name on the wall of fame. He received his Iowa Degree in 1952. Dale commented that while in FFA they were not as involved as the chapters are now a days. He worked with cattle and hogs while he was in FFA. Dale had four years of vocational ag instruction with two different advisors during his time in the FFA organization.
To earn a spot on the Wall of Fame you must first earn the Iowa FFA Degree.
Iowa Degree requirements include: received the Chapter FFA Degree, been an active FFA member for at least two years, have completed at least two years of Agriculture Education classes of above the ninth grade level, which includes a supervised agricultural experience program, earned and productively invested at least $1,000, or worked at least 300 hours in excess of scheduled class time, or a combination, in a supervised agricultural experience program, participated in at least 25 hours of community service activities in two different community service activities, performed ten procedures of parliamentary law, given a six-minute speech on a topic relating to agriculture or the FFA, served as an officer, committee chairperson, or a participating member of a chapter committee, have a satisfactory scholastic record, participated in the planning and completion of chapter Program of Activities, and participated in at least five approved FFA activities above the chapter level.
American Degree requirements are: to earn at least $10,000 and invested $7,500 or have earned and invested at least $2,000 and have worked 2,250 unpaid hours outside of the classroom, have outstanding leadership skills, have completed at the minimum, 50 community service hours in three different service activities, and maintained a "C" average grade or better in school. Atlantic FFA Advisor Eric Miller commented, "The Wall of Fame is a unique way to recognize the hard work of past FFA members. It is also a motivation for our current members. They see friends and family on the wall and want to achieve this honor."
The Atlantic FFA will hold their annual banquet on Tuesday, March 24, at the Atlantic High School. The banquet will include a meal along with a review of all activities during the year, awards and degrees, and the installation of the new officer team.
In a final note this will be my last article serving as the 2014-15 Atlantic FFA Reporter. It has been a lot of fun writing about our chapter and seeing the involvement grow. I have loved hearing the community respond to my articles and I can't wait to see what the new reporter does for our chapter. -Haley Carlson, Atlantic FFA Reporter.