Nodaway Valley teacher recognized for outstanding fishing program
August 13th, 2019 by Ric Hanson
Officials with the Iowa Dept. of Natural Resources report Norma McCutchan, life science teacher at Nodaway Valley High School in Greenfield, is the 2019 recipient of the Brass Bluegill award from the Iowa Department of Natural Resources Fish Iowa! program. McCutchan started using Fish Iowa! in 2012 to introduce animal behavior and Iowa's natural resources to her sophomore classes, and share her love of the outdoors. McCutchan says "Many of my students aren't aware of the nature around them, activities available outdoors, and the impact we have on an ecosystem." She said also, "I'm an outdoors person and want to share my experiences and passion for nature, and hopefully spark an interest in fishing."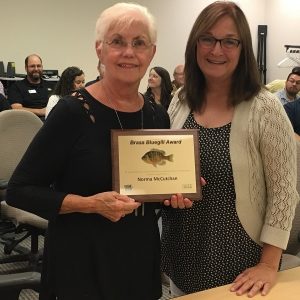 McCutchan's students study Iowa fish species found in their regional lakes, and characteristics of the fish. They learn about different fishing baits and lures and make a hypothesis about which lure or bait they could use to catch a specific fish species. McCutchan reminds her students that it's not always about catching when they go fishing, they need to be aware of lake conditions and weather. After the students' research is complete, they put their knowledge into practice during a fish outing.
"I want students to experience the outdoors and joys of fishing," McCutchan said. "Many of my students have never gone fishing, don't know how to cast a rod, bait a hook, tie a hook/lure on their line, or remove a fish after it's caught. I get the privilege to teach them these skills."
McCutchan was presented her award at the Natural Resources Commission meeting in Des Moines on August 8. The Brass Bluegill award has been presented each year since 1996 to an instructor who has established an outstanding local program that exemplifies the goals of Fish Iowa!