WEDNESDAY, JUNE 12th
June 12th, 2019 by Jim Field
FOR SALE:  1986 Chevrolet Minnie Winnie Low miles. Runs and drives well.  $2800.  Call after 5 PM 712-253-1485 or text 712-254-0539.  SOLD!
FOR SALE:  2 tickets to the Kansas City Royals vs. Detroit Tigers game at TD Ameritrade Park in Omaha on Thursday, June 13.  Tickets are down the first base line.  Asking $70 each.  Call or text 712-249-1070.  SOLD!
FOR SALE: Antique child's ironing board with 2 toy irons…..$75…contact Vicki…712.762.3918.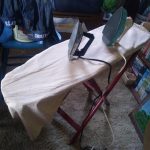 FOR SALE: Yardman self-propelled lawn mower. 21″cut with 7 height adjustments. Runs well. Electric start needs a  new battery but still has pull start functioning. Asking $150. Call 712-243-4308. SOLD