Jacobsen rallies to win 60th Annual Tournament of Champions
August 12th, 2018 by Chris Parks
Atlantic native Derek Jacobsen rallied to win the 60th annual Tournament of Champions at the Atlantic Golf and Country Club on Sunday.
Jacobsen started the final day a shot back of past champion Matt Weresh and fell behind a few strokes before eventually grabbing the lead on the 17th hole. Jacobsen had a strong stretch on the front nine scrambling for par on the 4th hole and following that with three straight birdies. It was a tight race until the end. Matt Weresh lead the entire day until a bogey at the 15th. That put three players in a tie for the lead at -1 for the weekend: Weresh, Jacobsen, and Zach Christensen.  The tie held through 16 and then Jacobsen launched a great drive on 17 and took advantage by getting close in two and making birdie. That gave him the one shot edge that he would hang on to. Weresh had a chance for birdie skate by the hole on 18 and Jacobsen just needed to tap in for par to win.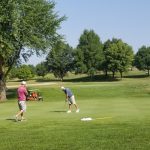 Jacobsen finished with a weekend total -2, 205. He shot rounds of 68-69-68 on the weekend to grab the win. Weresh was Runner-Up at -1. Zach Christensen finished 3rd at Even. Barry Smith was 4th at +3 and Andrew Martin, Matt Haley, and Jake Olsen finished at +4.
Past Senior Champ Darron Baker was the Senior division champion by two shots with a weekend +12, 219. Baker shot rounds of 73-71-75 to beat out Daryl Armstrong who was two shots back.
John Willmore completed the Tournament of Champions grand slam by winning the Super Senior Division by one shot over two- time defending champ Arnie Leistad. Willmore shot +2, 209 for the weekend. He had rounds of 68-69-72. This was his first year playing in the Super Senior Division and the win adds to his prior titles in the Open and Senior Divisions.
Thanks to all of players, volunteers, AGCC staff, and spectators for another great year of the Tournament of Champions.