Inspection results in immediate Audubon County bridge closure
October 27th, 2016 by Ric Hanson
The Audubon County Emergency Management Agency reports the Audubon County Engineer's office was forced to immediately close a bridge in the 1900 block of 220th Street, following an inspection that determined the bridge was unsafe. The bridge is located just east of Highway 71 on 220th Street (just east of Agriland FS), in Audubon County.
The closure will be in effect until plans can be made to make repairs. Persons living in the 1900 and 2000 blocks of 220th Street who normally access their properties from the west, will only be able to do so using 215th Street and Lark Avenue from the north and east, or Highway 44 and Kingbird Avenue from the south and east. Addresses in the 2200 and 2300 blocks of Kingbird Avenue will have to be accessed by Highway 44.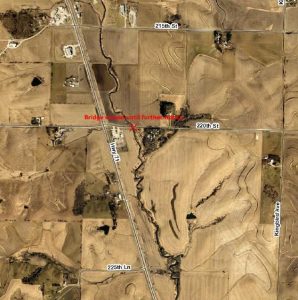 Police, Fire and Ambulance services should plan alternate routes for emergency response to nearby residents. If you have any questions, call the Audubon County Engineer's Office at 712-563-4286.