Halloween Safety Tips
October 27th, 2016 by Ric Hanson
BURNSVILLE, MN (October 24, 2016) – As Halloween approaches, AAA – The Auto Club Group reminds parents to be extra careful if their children will be trick-or-treating on neighborhood streets.  Halloween can be a safe and enjoyable time for everyone if motorists are on watch for costumed children who may dart out between parked cars.
"Drivers should be especially careful when pulling in or out of driveways and realize that the normal residential speeds are way too fast when the night is full of excited children moving from house to house" said Amy Stracke, Executive Director, Auto Club Group Traffic Safety Foundation.  "A safe Halloween necessitates seeing others and being seen."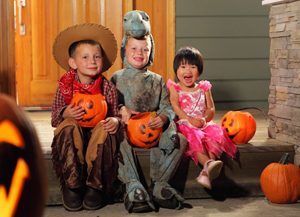 To help make this a safer Halloween, AAA offers some reminders:
Motorists:
Reduce any distractions inside your car, such as talking on the phone or with other passengers, so you can concentrate on the road and your surroundings.
Drive slower through neighborhoods.Driving five miles per hour slower than the posted speed limit will give you extra time to react to children who dart out in front of you.
Watch for children walking on roadways, medians and curbs.  In dark costumes, they will be harder to see at night.
Turn on your headlights to make yourself more visible – even in the daylight.
Drive sober. Nearly 40 percent of fatal crashes on Halloween night involve a drunk driver.
 Always designate a sober driver if you plan to drink any alcohol.  Visit www.PreventDUI.AAA.com   to learn more.
Parents:
Walk with your children as they go door to door while trick-or-treating. Be sure to show them safe places to cross the street.
Ensure an adult or older, responsible youth is available to supervise children under age 12.
Buckle up. If driving trick-or-treaters between neighborhoods, always use appropriate car/booster seats and have children exit and enter on the passenger side of the vehicle.
Have children carry a glow stick or flashlight to help them see and be seen by drivers.
Prevent trips and falls by picking a costume that is the right size and doesn't block vision.
Trick-or-Treaters:
Cross the street and corners using traffic signals and crosswalks.
Look both ways between crossing and keep an eye on the road while you are crossing.
Always walk facing traffic if there are no sidewalks available and stay as far to the left as possible.
Wear light-colored clothing or costumes with reflective material or tape for the best visibility.
Consider using nontoxic face paint instead of masks to avoid obstructing vision.
Stay in familiar neighborhoods.Only visit homes that have the porch light on and never go into a stranger's house.
Always have an adult check your treats before you eat. Discard anything that looks like it has been unwrapped or altered.
For additional tips to keep Halloween safe, visit http://exchange.aaa.com/safety/child-safety/halloween-safety.