Major Expansion announced for Atlantic-based business
September 15th, 2016 by Ric Hanson
A long-time employer in Atlantic with a facility also located in Waukee, has announced a major expansion project. Jim Tyler, Executive Chairman of the Atlantic Coca-Cola Bottling Company, told KJAN's "Heartbeat Today" with Jim Field, that a three-year project culminates October 1st, and will see the company grow literally overnight, from 200 to 700 employees. He says instead of just two locations – Atlantic and Waukee – they'll have a total of nine locations: SpiritLake, Mason City, Ames, Ottumwa, Cedar Rapids, Dubuque and the Quad Cities. They'll do business in parts of Minnesota, Wisconsin, Illinois and Missouri.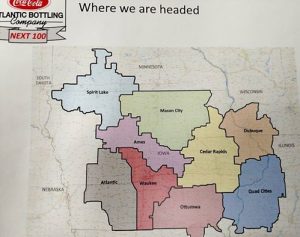 Tyler said the Atlantic Production facilities will become larger. He said their employees are excited by the change.  He says the 107-year old family-owned business is working to stay in business another 100-years. Tyler said over 25-percent of their employees have been with the company for more than 20-years.  85-percent of what's produced in Atlantic is distributed by their Waukee facility. Part of the expansion includes the purchase of several new tractor-trailers.
They purchased 16 new Kenworth tractors, 17 new trailers, and are increasing the number of routes from 95 to around 120. The goal he says, is to improve service to all of their current and future customers, that includes the use of a service call-in center in Waukee, instead of Tampa, Fl. The expansion effort was approved by Coca-Cola's North American Corporate offices in Atlanta, GA. He said the company has been extremely helpful and representative this week were in Des Moines to meet with employees about the changes.
Tyler says at one-time, there were more than 1,000 independent Coca-Cola bottlers in the U-S, but that dwindled down to 60. The company decided about three-years ago to consider re-franchising. Tyler and his son made a trip to Atlanta and spoke with the President of the Company and expressed their efforts in expanding their current franchise to several points in Iowa, but Coke President Sandy Douglas suggested they should think "A little larger."
Tyler said they showed him an expanded map of the service area they need to cover. He said the Atlantic Coca-Cola Bottling is ready for the challenge. Tyler says they intend to be active in every community they serve.
(You can hear the full interview with Jim Tyler at kjan.com. Click on the "Programs" section on the home page, and then the link to "Heartbeat Today."