IA farmland values drop for the 2nd year in a row
December 15th, 2015 by Ric Hanson
The value of average Iowa farmland is now estimated to be $7,633 per acre after having dropped in value for the second consecutive year. That's according to the 2015 Iowa Land Value Survey conducted by the Center for Agricultural and Rural Development at Iowa State University and Iowa State University Extension and Outreach.
According to the survey, Per acre value declined $310, or 3.9 percent, since last
year's survey. Farmland values have now fallen almost 13 percent from the historically high 2013 values. Results from the survey are similar to results by the US Department of Agriculture, the Federal Reserve Bank of Chicago, and the Realtors Land Institute.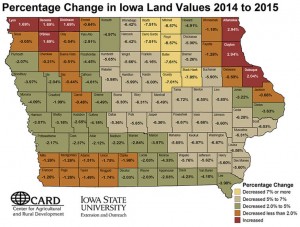 The $7,633 per acre, and 3.9 percent drop in value, represents the state as a whole, although values are also determined by crop reporting districts (district hereafter) and each of Iowa's 99 counties individually according to low-, medium-, and high-quality farmland ratings. Farmland values hit a historic peak of $8,716 per acre in 2013, but declined 8.9 percent to $7,943 the following year. The drop in value this year is smaller than that of last year, but now marks the third time values have fallen since 2009.
The 3.9 percent decline may seem less than what many people speculated, but according to Dr. Wendong Zhang, Assistant Professor of Economics at Iowa State
University who led the survey this year, this is not out of line due to a mix of factors, including a lot of cash in hand for many farmers, market expectation of this decline early on, robust livestock returns, and strong recreational demand.
In southwest Iowa, the lowest declines in land value were noted in Adams, Mills, Montgomery, Fremont, Page and Taylor Counties, where the decrease ranged from 1.26 to 1.51-percent. For Pottawattamie, Cass, Adair and Audubon Counties, land decreased in value anywhere from 2.12- to 2.65-percent. Harrison and Shelby Counties came in with a decrease of just over three-percent, while Guthrie County had the largest decrease in area land value, at 4.18-percent, followed by Dallas County, with 5.36-percent.
Despite decreasing again, farmland values are still more than twice the reported values from 10 years ago, and almost 14 percent higher than 2011 values. For the third year in a row, Scott and Decatur counties reported the highest and lowest farmland values, respectively. Decatur County reported a value per acre of $3,514, a drop of $73, or about 2 percent, from last year's report. Scott County reported the highest value at $10,918 per acre, however, values there declined about $700 per acre, higher than this year's statewide average, and just over 6 percent from last year.
The value of all qualities of farmland fell across the state, with high-quality farmland losing 5 percent ($490 per acre) of its value, medium-quality land falling 3.2 percent ($232 per acre), and low quality farmland falling 0.9 percent ($44 per acre). Statewide averages for high-, medium-, and low quality farmland are now $9,364, $7,127, and $4,834 per acre, respectively.
(Read more at http://www.card.iastate.edu/land-value/2015/ )