AtlanticFest set for this Saturday
August 5th, 2014 by Ric Hanson
Atlantic's largest summer festival, AtlanticFest, is set to take place this Saturday, August 9th. Activities begin at 10-a.m. with a craft fair, car show, kid games, tractor ride, pedal pulls, weasel rides, live entertainment, and food. Most of those events end at 4-p.m., with the exception of the motorcycle show, which concludes at 2-p.m.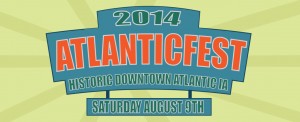 Live music will continue through the evening, with performances by Mega Music Bert Rose, Dirt Road Divide, and Exit 113. A beer garden will be set up on 6th and Chestnut Street at 4-p.m., with a street dance beginning at 8-p.m. and continuing late into the night.
For questions about AtlanticFest, call the Atlantic Area Chamber of Commerce at 712.243.3017 or visit www.atlanticiowa.com.