2014 Guthrie County 4-H Hall of Fame Inductee
August 20th, 2014 by Ric Hanson
Officials with ISU Extension in Guthrie County report Jim & Jo Laughery of Guthrie Center were inducted into the 2014 Iowa 4-H Hall of Fame during a ceremony at the 4-H Exhibits Building at the Iowa State Fair on Sunday, August 17th.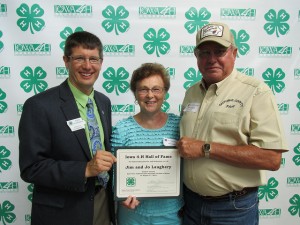 Eighty-two counties and two state level Iowa 4-H Volunteers were inducted during the ceremony at the 4-H Exhibits Building at the Iowa State Fair.
4-H has been a large part of the Laughery family. Mary Jo Laughery grew up in Guthrie County 4-H and was a part of the Beaver Valley Girls 4-H Club. While in 4-H she was busy with sewing, home furnishings, and demonstrations. She was unable to show cattle in the girls club so she joined the Valley Boosters Boys 4-H Club. While in the boys' club she finally got the opportunity to show her Hereford cattle. She learned many life lessons from both clubs. She then became a 4-H leader for eight years for the US Sunbeams while her children were in 4-H. She also received the Guthrie County Alumni Award in 1983 for all of her hard work and dedication to the program.
Although Jim was never in 4-H he is no stranger to the program. He has served on the county fairboard for many years. Together, they own the Guthrie Livestock Auction. They allow the 4-H'ers the use of their scale before, in-between, and during county fair. They support the 4-H program by also running the fair livestock auction in which Mary Jo clerks all of the animals by hand. They also have purchased animals from the 4-Hers when the buyers fell through so the members didn't lose their premiums.
Counties select inductees for their exceptional work in contributing to the lives of 4-H members and the overall 4-H program. Many inductees served as club leaders, youth mentors, fair superintendents or fair board members, fair judges, financial supporters, chaperones, or ISU Extension & Outreach staff members. The inductees have demonstrated dedication, encouragement, commitment and guidance to Iowa 4-H'ers through the years.