Family Fun in the Kitchen 07-19-2014
Podcasts, Family Fun in the Kitchen
July 19th, 2014 by Chris Parks
STACK-IT SALADS (also known as Mason Jar Salads)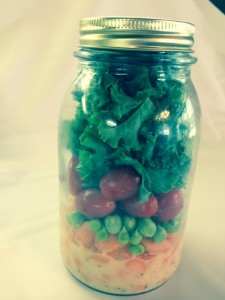 Equipment needed: a slender jar with tight fitting lid, glass preferred. A wide-mouth jar makes it easier to remove the salad. Choose a size to fit your tastes for individual or family. A bowl for serving.
Ingredients needed: salad dressing veggies, and other, see lists below.
1. Start at the bottom. Pour 2 to 3 tablespoons of vinaigrette, creamy, your favorite dressing in bottom of the jar.
2. Add hearty vegetables such as cucumbers, red onion. broccoli,celery, carrots, peppers
3. Stack in the next layer of less hearty veggies such as mushrooms, corn, zucchini, green beans, tomatoes.
4. Next layer could be pasta rice or other if you choose to include.
5. Add meat, cheese or eggs. Chunks of cooked left over ham, chicken etc. would be good. Use chunked or crumbled cheese.
6.Top everything with your favorite greens. Add nuts or seeds if you like. Close tightly.
Choose a size and combination you like. The most important "rule" is to keep the dressing and greens separated. The salads may be made up to 4 days in advance and refrigerated. If including meat or eggs, it will be best to use the same day or add those ingredients on of the greens the same day as you will be eating. Have a variety of choices for children. They may surprise you…if they stack it, they probably will eat it.
NOT YOUR USUAL POTATO SALAD
3 pounds cubed red skinned potatoes
1-pound fresh green beans
1 can (2.2 ounces) sliced ripe olives, drained
½ cup chopped celery
½ cup chopped onion
¼ cup vegetable or olive oil
2 tablespoons white wine vinegar
2 teaspoons ground mustard
2 teaspoons dill weed
2-½ teaspoons seasoned salt
(we used McCormick Season-All)
Place potatoes in a large saucepan. Add water to cover. Bring to boil;
cook until just tender. Drain; cool slightly.
Cook green beans until tender crisp.
Mix all vegetables.
Whisk oil and seasonings together; add to vegetables and toss.
Refrigerate at least 4 hours before serving.
Makes 12 servings.
LaVon Eblen and Miss NiNi discuss Salads on the Go.
Podcast: Play in new window | Download (7.4MB)