Creston man arrested early Saturday morning
July 26th, 2014 by Ric Hanson
Authorities in Lenox report a Union County man was arrested early Saturday morning following a disturbance at a local bar.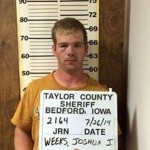 At around 1:30am, police were dispatched to the Dally Post bar. Officials determined 29-year old Joshua Weeks, of Creston, had entered the bar in an allegedly highly intoxicated condition, and confronted another patron.
Weeks was arrested on a charge of public intoxication and transported to the Taylor County Jail.