Be prepared for possible severe weather Sat. afternoon & evening
July 26th, 2014 by Ric Hanson
The National Weather Service says people in Iowa should be prepared for severe weather, especially this afternoon and this evening. In their web briefing late this (Saturday) morning, officials said the primary threat from storms will be damaging winds and large hail, lightening, and heavy downpours of rain.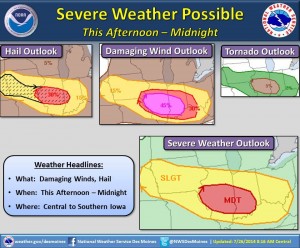 Winds of 60-to 80-miles per hour can have the same effect as an EF-0 tornado. The level of storm activity will vary widely, depending on how far north a frontal boundary that pushes north from Missouri will end up. Right now, the target is southern Iowa, but southwest and western Iowa could be affected…especially by strong winds and large hail.
Timing for these events will be this afternoon through the midnight hours. Most of the State of Iowa is under a "Slight" risk for severe weather. The greatest chance for severe weather will be in far southeast Iowa into central Illinois. Stay tuned to KJAN for further weather updates.