FRIDAY, MAY 2nd
May 2nd, 2014 by Jim Field
GARAGE SALE: Friday, May 2nd until 5:00 pm @ 1201 Maple St., Atlantic. Multi family garage sale, lots of misc. items, lamps, lawn furniture, asparagas, fish aquarium.
FOR SALE:  We have a Singer Futura SEQS-6000 ALL IN ONE Sewing/ Embroidery / Quilting / Serger Machine. It's practically new. We bought it for our mom and it was far to much for her to try to figure out. So, we got her a simple sewing machine and need to get rid of this one.  Purchased for $1099. Will sell for $625.  515-978-1008 is our cell phone to call or text.
FOR SALE:  1990 Jayco J Series 1006. Low mileage. Clean & well-cared for. Always stored indoors. All canvas, screens, cushions, curtains, drawers, & appliances in Excellent condition. LP/electric refrigerator, indoor/outdoor 3 burner LP range, indoor/outdoor dining table, sink with pump faucet, water hookup, no AC, good tread on tires & spare, low profile, 4 ft. tall when down, 7 ft. wide, 12 ft. long, opens to 25 ft., Easy & quick set-up. Light weight 1300 pounds. Easy to tow. Does not leak. Plenty of storage space. King, queen, & regular beds — sleeps 6. Ten foot awning with AstroTurf carpet. Will sell for best offer. Located in Atlantic, Iowa. Call 712-249-3868.  SOLD!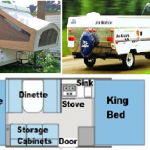 WANTED:  Still looking for a used 30″ wide Steel Door (plain door – no design or window in it). Prefer one in good condition that may have only one or two dents in it. Call 515-943-6471. Would like to find one within 20 miles of Exira area.
FOR SALE: 1995 Coachman pop-up camper, needs a little work, needs new cables, a/c works, $400 obo, want to sell by this weekend. 712-250-0788
FREE: 2 recliners, 1 works, 1 doesnt. 243-3073.
FOR SALE: A corn sheller, in good shape. $200. 2 rolls of woven wire. $10 per roll. 2 sections of a 3 section hay feeder. $10. And 26 gauge steel sheets. 712-243-3756.
FOR SALE: Fresh asparagus. $3.50 a pound. 712-249-6202.