Saeugling Named 2014 FFA Stars Over Iowa Finalist
April 24th, 2014 by Jim Field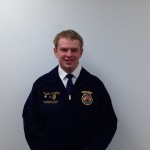 The 2014 Stars Over Iowa Finalists were selected for recognition as part of the 86th Iowa FFA State Leadership Conference at Hilton Coliseum in Ames, Iowa, April 27-29, 2014. Twenty three finalists were selected in four different areas: Agricultural Placement, Agriscience, Agribusiness, and Agricultural Production. The finalists were selected from a pool of 686 FFA members that will earn the Iowa FFA Degree—the highest honor the Iowa FFA Association can bestow upon an FFA member.
The star awards recognize students who have developed outstanding agricultural skills and competencies through their career development programs and demonstrated outstanding management skills. These finalists will be interviewed and an overall winner in each area will be announced on stage during the 4th General Session of the Iowa FFA State Leadership Conference Tuesday, April 29th.
Stars Over Iowa finalists receive a plaque and a cash award. The Stars Over Iowa program is possible with support from DuPont Pioneer and SFP through the Iowa FFA Foundation.  Wyatt Saeugling is the son of Aaron and Danna Saeugling of Atlantic and is a Finalist for Stars Over Iowa in Ag Placement.
Wyatt has worked at R&B Feeds in Atlantic since he was freshman. Wyatt has a strong love for agriculture. "My dad graduated from Iowa State University with a degree in Agronomy and my mom also graduated from Iowa State with a degree in Ag Studies. Whether I was playing with my farm toys or riding in the tractor with my grandpa, I have always been involved in agriculture. One of my favorite memories from growing up was when I would help my grandpa
do chores. He has a dairy farm in Northern Iowa and we would go and visit almost every weekend when I was younger. Now that I have gotten older and have started to take care of my own cattle, I don't get to travel up there as often but I'm glad that my grandpa set a great example of caring for livestock." Saeugling said.
I can't describe how grateful I am to have some of the relationships that I have gained over the years working at R&B Feeds whether it has been employees or customers. I have learned so much about how people work and what is best for their livestock needs. I've also learned that there is a lot more to feeding livestock than just opening a bag and dumping it out.
The Iowa FFA Association has 219 local chapters with over 14,200 FFA members. FFA is a national organization of nearly 580,000 members preparing for leadership and careers in science, business and technology of agriculture. Local, state and national programs provide opportunities for students to apply knowledge and skills learned in the classroom. FFA's mission is to make a positive difference in the lives of students by developing their potential for premier leadership, personal growth and career success through agricultural education.