Iowa DNR: Rainfall last week not enough to replenish groundwater levels
April 25th, 2014 by Ric Hanson
Above normal rainfall was received over the last two weeks in Iowa, with the statewide average was 2.3 inches, as compared to the normal 1.7 inches. However, in its latest Water Summary Report, the Iowa Department of Natural Resources notes more, slow steady rains are needed to bring us out of the drought. The National Drought Monitor indicates improvement in all categories of drought conditions across the state over the past two weeks. Over 35 percent of the state continues to be rated in moderate drought, and just over 5 percent is rated in severe drought. Nearly 60 percent of the state, however, is now shown without drought or just abnormally dry. Those driest areas continue to be two small locations in west-central and southeast Iowa.

The DNR says that although shallow groundwater levels in southern central, eastern and northeastern Iowa have benefitted from the rainfall, parts of southwest and northwest Iowa received very little rain and shallow groundwater levels are much lower than the previous April. Water supply operators in northwest Iowa are seeing reduced production, dropping water levels and historically low levels.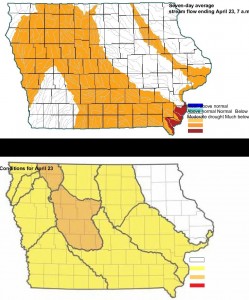 Stream flow has improved statewide, but remains below average. Northeast Iowa remains the wettest, while northwest Iowa is the driest. Groundwater conditions are still low across much of the state, but normal spring rains should continue to bring improvement.
Compared to a year ago, shallow groundwater levels are one to four feet lower in Johnson, Jefferson, Lucas and Montgomery counties, and the same or slightly higher in Marshall, Fayette, Crawford and O'Brien counties.
Compared to two years ago, shallow groundwater levels are 2 to 12 feet lower in Crawford, O'Brien, Jefferson, Johnson, Lucas and Montgomery counties.