30 acres burned in Montgomery County field fire
April 9th, 2014 by Ric Hanson
The entire KJAN listening area is under a Red Flag Warning for critical fire weather conditions, meaning that any outdoor burning which occurs either intentionally or by accident, can spread in an explosive manner, due to low humidity, dry grasses and timber, and very gusty winds.
Similar conditions Tuesday afternoon helped to spread a 15-acre fire in Montgomery County into a 30-acre fire. Emergency Manager Brian Hamman reports the Red Oak Fire Department was paged to a possible field fire just before 4-p.m., Tuesday, in the area of 230th Street and J Avenue.

Hamman says upon arrival, crews found nearly 15 acres of corn stalk stubble on fire, with flames moving rapidly to the south. Mutual aid was requested from the Stanton Fire Dept., and multiple tractors with discs were used to stop the spread of the flames. A total of 30 acres burned and crews were on scene for roughly three-hours.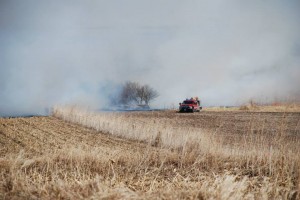 Hamman says a hot exhaust pipe that was sitting in the field while workers were marking terraces caused the fire. Once the crew noticed the fire, they attempted to extinguish it with their fire extinguisher but were unable to do so due to the strong winds and dry conditions. The Fire Weather Index was in the Very High category at the time.