Cass County 4-H Youth Convention is Sunday, Nov. 3rd
November 2nd, 2013 by Ric Hanson
Members of all 15 4-H Clubs in Cass County will gather Sunday afternoon at the Cass County Community Center, for the County 4-H Convention. The annual awards program begins at 2-p.m., and is being organized by the 2012-2013 4-H Youth Council and Youth Action Committee.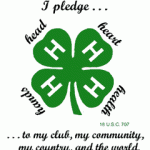 At County Convention, members and leaders of the 4-H clubs in Cass County will be presented on stage to receive recognition. Record book projects will be announced and recognition given to those members who did outstanding work. In addition, local club leaders will be honored for their service to the 4-H program, with special recognition being given to 4-H clubs for outstanding community service projects and other activities.
Parents, relatives and friends are invited to attend the event for Cass County 4-H members and leaders, during which the final activity for the day will be the installation ofthe  2013-2014 Cass County 4-H Youth Council. Current members of the Council include Hannah Ankenbauer, Katie Aupperle, Stephanie Freund, Luke Frisbie, Emily Jacobsen, Heather Reyna, and Haley Schmidt.