Atlantic Parks and Rec Maintenance Building Open House date set
November 19th, 2013 by Ric Hanson
The Atlantic Parks and Rec Board Monday, set Dec. 5th , 2013 as the date for an open house and tour of the new Park Maintenance Building. The event will take place from 4-to 6-pm, which the Board hopes will allow shoppers and those just getting off of work an opportunity to check out the new facility and enjoy some snacks and refreshments. The recently finished metal framed building features a concrete floor, plenty of room for equipment, an office, lobby/reception area, and cabinets purchased from the Cass County Memorial Hospital.
The cabinets were no longer needed at the hospital because of their recent renovation project, which Park and Rec Director Roger Herring said saved thousands of dollars in fabrication costs. The heavy tops for the cabinets and work benches were made from unused skate park high density fiberboard.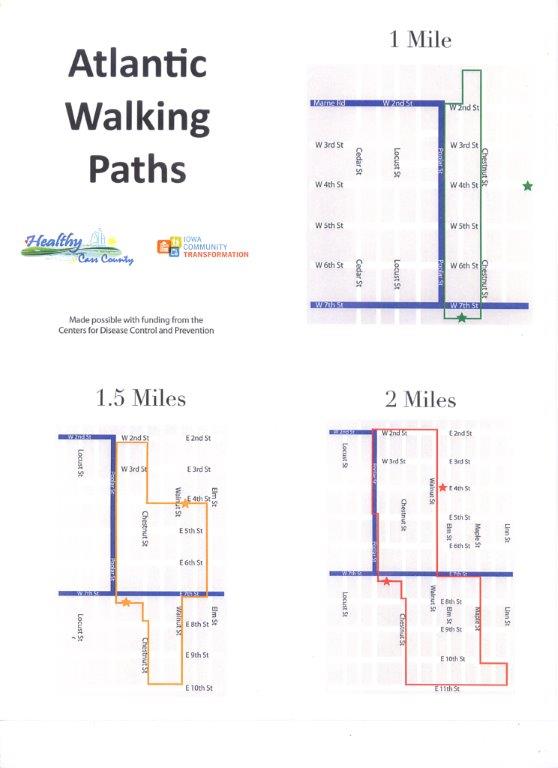 In other business, through a cooperative effort with the wellness group Healthy Cass County and through grants from the Centers for Disease Control and Prevention and Iowa Community Transformation, three different walking paths have been identified throughout the downtown Atlantic area. He says bike racks will be placed in strategic places along the paths as well, in addition to signage indicating which walking path you are on.
The paths are color coded: Green (1-mile route), Red (2-miles) and Orange (1.5-miles). Information about the paths is being circulated throughout the community, with additional details planned for release later.