Frederickson Fund donates to Atlantic JSA & AHS football program
October 16th, 2013 by Ric Hanson
A representative of the Trevor Frederickson Memorial Fund says the organization recently donated $1,100 to the Atlantic Junior Sports Association (AJSA). Melanie Petty says the funds will help the AJSA to purchase a Football Chute, 5×10-foot Landing Mat and Chute Board Football Training Aides.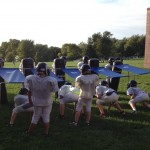 Petty says they are excited to learn how much the AJSA has grown in the last few years, and look forward to watching the kids continue to play in years to come. She said also, another donation of over $2,000 was given to the AHS Football Program to purchase items they needed to kick off their 2013 season.
Petty says football was always part of Trevor's life,  so the two donations are a perfect fit for the Memorial Fund to give back to the community.