More on Atlantic's Urban Deer Hunting Ordinance
September 5th, 2013 by Ric Hanson
Atlantic Police Chief Steve Green says Wednesday evening's action by the City Council pertaining to an amendment of an ordinance allowing bow hunting of deer within the City limits, means anyone interested in hunting this season, and did qualify to do so last season, should contact the Police Department to acquire a permit. Hunters who did not shoot qualifying scores last season may contact Lt. Dave Erickson at the P-D, to set-up a time to qualify.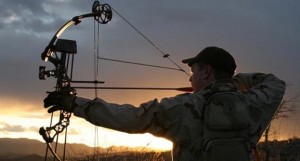 Green says the department has the permit applications and hunting instruction packets available. Both may be picked up during normal business hours (8-a.m. to 4-p.m., Monday through Friday). In addition, land owners who would like to allow bow hunters to hunt on their land, should contact the Police Department at 712-243-3512 during business hours, to sign-up.
The Council's action Wednesday, was an effort to entice hunters to actively assist in the reducing of an excessive number of deer that have plagued the City in recent years. Last year, over 30 hunters qualified for the right to hunt within the City limits of Atlantic, but only two deer were taken. The greatest change to the Ordinance, according to Green, is that hunters will be reimbursed for the cost of the State Deer Tag for taking their first doe within the City limits. Subsequent to taking an antlerless deer and having it verified that it was taken within the City limits, hunters will be given a permission slip allowing them to use their next "any sex" tag, to take one of the many large bucks that frequent the community.