Open Burning Ban in Audubon County effective 8/31/13
August 31st, 2013 by Ric Hanson
State Fire Marshal Raymond Reynolds has ordered a ban on open burning in Audubon County, effective at Noon today (Sat., Aug. 31st).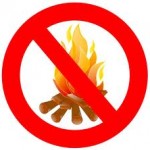 No one is allowed to engage in open burning in Audubon County, except as specifically permitted by Iowa Code, or until Audubon Fire Chief John Ballou (who represents each fire department in the County), notifies the Fire Marshal that conditions have improved, and no longer threatens life or property.
The burn ban was requested by Ballou, after consulting with fire chiefs in the County, and was made due to the extremely dry nature of brush, grass and timber in the County. If fires start, they can spread rapidly and become out of control.