Area Sheriff's Deputies & K-9 receive U-S DOJ awards
June 4th, 2013 by Ric Hanson
Three Cass County Sheriff's deputies and one former Audubon County Sheriff's deputy have been honored with the U.S. Department of Justice's 2013 Law Enforcement Coordinating Committee (LECC) Award.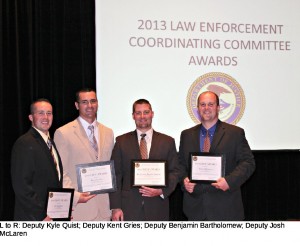 Deputies Benjamin Bartholomew, Josh McLaren, and Kyle Quist, as well as Quist's K9 partner, Kane, from Cass County, and Deputy Kent Gries, formerly from Audubon County and currently from Guthrie County, were nominated for the LECC by Chief Jody Matherly from the Des Moines Police Department.  The joint efforts of the Des Moines DEA Task Force and the Cass County Sheriff's Office allowed the Des Moines DEA Task Force to take down a major methamphetamine drug trafficker in the Des Moines Metro Area and took 24 pounds of liquid methamphetamines off the streets. 
LECC awar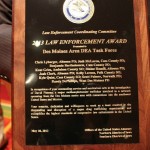 ds are presented to recognize the extraordinary efforts made by law enforcement officers, groups, and task forces, and the successful law enforcement investigations and prosecutions that have been characterized by cooperative and coordinated efforts among various agencies.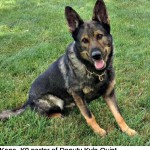 The LECC is comprised of representatives from local, state, and federal law enforcement across Iowa.