Two Iowa youth honored for volunteerism at a national award ceremony in Washington, D.C
May 6th, 2013 by Ric Hanson
Iowa's top two youth volunteers of 2013, 18-year old Katelyn Cinnamon, of West Des Moines and 13-year old Samantha Dilocker, of Red Oak, were honored in the nation's capital Sunday night, for their outstanding volunteer service, during the 18th annual presentation of The Prudential Spirit of Community Awards.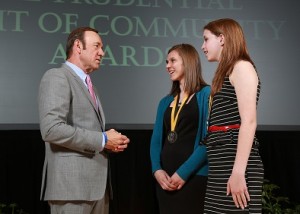 Katelyn and Samantha – along with 100 other top youth volunteers from across the country – each received $1,000 awards and personal congratulations from Academy Award-winning actor Kevin Spacey and Olympic gold medalist Allyson Felix at an award ceremony and gala dinner reception held at the Smithsonian's National Museum of Natural History.
The Prudential Spirit of Community Awards program, sponsored by Prudential Financial in partnership with the National Association of Secondary School Principals (NASSP), named Katelyn and Samantha Iowa's top high school and middle level youth volunteers, in February. In addition to their cash awards, they each received an engraved silver medallion and an all-expense-paid trip with a parent to Washington, D.C., for four days of recognition events. Katelyn, a senior at Valley High School, has raised thousands of dollars to purchase iPad tablets for each exam room at the Blank Children's Hospital Hematology/Oncology Clinic, and to send young cancer patients to a weeklong camp through the Children's Cancer Connection.
Samantha, an eighth-grader at Red Oak Middle School, initiated  an annual auction of baked goods and crafts at her local Elks Lodge that has raised  more than $22,000 over the past seven years for a local food pantry, a scholarship fund, a community toy drive and a child with cancer. In 2006, Samantha's mother's employer announced that it would be closing. Samantha said "There was a lot of discussion in our home and community about people losing their jobs. I didn't really understand what it all meant, but I knew I wanted to help." So, she proposed a bake sale to her mother, who suggested the local Elks Lodge might want to help.
Together, they decided to ask lodge members to donate baked goods for a Christmas auction. Samantha asked a family friend to serve as auctioneer; solicited donations of cakes, cookies and pies from Elks members; made posters and signs to advertise the event; and helped run the auction. The final tally exceeded $1,000, and the auction has since grown to include craft items as well as baked goods. The proceeds have ballooned: $3,700 has been donated to a food pantry, $8,100 to a Christmas "share-a-toy" program, $3,300 to the National Elks Foundation and scholarship funds, and $6,100 to area families with children with leukemia.
Youth volunteers were invited to apply for 2013 Prudential Spirit of Community Awards last fall through schools, Girl Scout councils, county 4-H organizations, American Red Cross chapters, YMCAs and affiliates of the HandsOn Network. More than 28,000 middle level and high school students nationwide participated in this year's program. More information about The Prudential Spirit of Community Awards and this year's honorees can be found at http://spirit.prudential.com or www.nassp.org/spirit.