Still a good chance for severe weather on Sunday!
May 18th, 2013 by Ric Hanson
Partial sunshine is expected today with temperature mainly in the 80s across Iowa.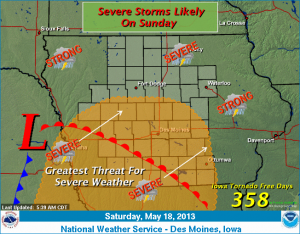 Scattered thunderstorms are expected to push into the state late tonight with periods of thunderstorms on Sunday into Sunday night. Severe weather appears likely on Sunday afternoon into Sunday evening with the threat of large hail…damaging winds and even a few tornadoes.