Dark and Stormy nights continue….
May 28th, 2013 by Ric Hanson
The weather pattern will remain the same for the next several days with chances for additional thunderstorms increasing again later this afternoon and tonight.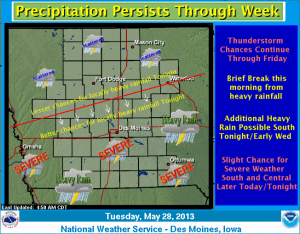 Some thunderstorms early this morning over Central Iowa may bring some brief heavy rainfall…but the focus will shift to the southern half of the region again tonight as both a threat for heavy rainfall and a slight risk of severe weather returns. A stronger storm will move into the region later Wednesday evening and Thursday keeping thunderstorm chances in the forecast through Friday.