TUESDAY, APRIL 9th
April 9th, 2013 by Jim Field
FOR SALE: 2007 Kenmore electric dryer like new $250. Amana fridge older would work great for garage $100.00. 712-563-2521.
WANTED:  I'm looking for houses barns and anything that needs painting.  If you are interested please give Chris a call at 712-789-0839.no job too big.
FOR SALE:  I have a nice sofa table in a darker cherry finish excellent condition. $65.00 712-250-0315 Anita,Iowa.  SOLD!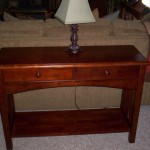 FOR SALE: 21″ Honda walk behind self-propelled lawn mower, runs good $125; 1 dozen old car radios – early 50's – mid 60's, all in good shape, $100 for all. 712-304-4998.
WANTED: Used small color tv, not over 15 1/2″ in height for kitchen counter, call Florence at 243-1445.
FREE: Hundreds of white window envelopes in both business size and small size. Free, 243-2480
FOR SALE: Four fax rolls, would like a little bit of money for them. Call 243-2480