Council Bluffs RAGBRAI website online
April 12th, 2013 by Ric Hanson
The Council Bluffs local RAGBRAI committee has announced that www.councilbluffsragbrai.com is online!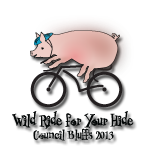 The public is invited to log onto the website for information.  Pat Barton and Geoff Hubbard have spent many hours assembling the details you'll find on the site.  Barry Cleaveland, Executive Committee Chairperson, is encouraging residents of the community to log on, because they are looking for housing and volunteers from the community.  The website, he says, is a resource of information for residents as well as for riders.

Included on the website are Mayor Tom Hanafan's welcome letter, and tabs for camping information, housing, long term parking, vendor and volunteer information.  In addition, there's a space for ordering the 2013 Council Bluffs official RAGBRAI T-shirt on the website. Kathy Fiscus, Chair of Publicity for Council Bluffs RAGBRAI, says "The unusual and highly desirable shirt includes a solar sensitive panel." Fiscus says "The Council Bluffs official RAGBRAI pig riding a bicycle expands into many colorful panels of the pig when the shirt is exposed to sunlight."   The theme, "Wild Ride for Your Hide" is printed on the front.  A slice of bacon with the phrase, "Sizzle In Your Seat" is printed in color on the back.

While www.councilbluffsragbbrai.com is a work in progress, the public is invited to log on now and return several times for updated information.  Riders for the event will be in town July 19-20, with the official Council Bluffs departure and start of the ride across Iowa early Sunday morning, July 21.