Iowa State student plans Ames bacon festival
March 28th, 2013 by Ric Hanson
AMES, Iowa (AP) – After seeing thousands of people attend a bacon festival in Des Moines, an Iowa State University student wants Ames to get a slice of the action.  The Des Moines Register reports that ISU junior Jake Swanson is planning a BaconFest on Oct. 11 with help from the College of Agriculture and Life Sciences.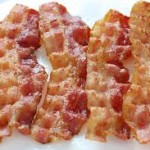 Swanson was the Iowa Pork Producers Association's pork ambassador in 2012, and he says the idea for a festival came to him as he attended pork events around Iowa. He also noted the success of the annual Blue Ribbon Bacon Festival in Des Moines, which drew 8,000 people in February.
The Ames event will be at Iowa State's Central Campus. It will be free, but people can buy "bacon bucks" to trade for food.