THURSDAY, FEBRUARY 28th
February 28th, 2013 by Jim Field
FOR SALE:  I have an 18 week Large Grey/White short haired male Chihuahua. Has not been neutered and is currently in need of a good home. If you can provide a loving, caring home for this dog, it would be greatly appreciated. I am asking $300.00 or best offer. He is in good health, just needs a good home.  Any questions, email me at the following address: ralang66@live.com.
FOR SALE:  USB key board, works good, FREE.  Wireless – G Broadband Router 2.4 GHZ $10.00.   Call 712-249-0077 leave a message.
FOR SALE: Antique wood-burning stove. Round Oak. Excellent Condition. Asking $450. Call 712-304-4998.
FOR SALE: Mens Wheelchair. Very sturdy and in excellent condition.  Call 712-781-2360 after 4:30pm.
FOR SALE: under seat truck storage and organizer. fits Chevy 99-07 classic extended cab trucks. asking $125 o.b.o. can be used as a storage box or has dividers to hold 2 guns securely.
FOR SALE: 1 used General Grabber AW tire. size is P-255/70/R16,with about 80% tread. tire only-no rim.$35 cash,firm.please call 748-3676,leave message if no answer.
FOR SALE:  LG Optimus Elite Smart Phone (LS696) Virgin Mobile No contract.  for voice, text and internet is $55 a month, there are cheaper plans also. Only used 2 months.  Paid $150, asking $85.  249-8475.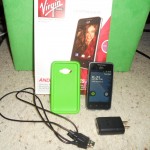 WANTED: Different kinds of birdhouses for decoration. If they need to be fixed up that is okay. Reasonable prices. Please call 243-3756