Record High temperatures reported Monday across Iowa
December 4th, 2012 by Ric Hanson
The National Weather Service says Iowa experienced unseasonably warm temperatures on Monday, as southwesterly winds increased ahead of an approaching cold front.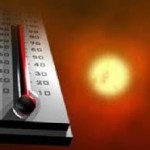 Many locations broke their daily high temperatures, and several tied their records for the highest temperature ever recorded on that date, in December. Among the locations where the high was tied, was in Atlantic, where we hit 63-degrees at 11-a.m., here at the KJAN studios, the Official NWS reporting site for Atlantic. Our high tied the record first set 50-years ago (1962). Today's predicted high of 58 would fall about 8-degrees shy of tying the record for December 4th.
High temperatures Monday ranged from 62-degrees in Omaha to 72 in Burlington. Des Moines topped out at 69-degrees, which tied the record set in 1984. The highest temperature ever recorded anywhere in Iowa during the month of December is 74-degrees in Thurman, on Dec. 6th, 1939, a day on which many areas of western Iowa established December warmth records that still stand today. On that date, Atlantic hit 69 degrees.