Iowa Land values survey shows nearly 24% increase over last year
December 12th, 2012 by Ric Hanson
The annual survey from Iowa State University shows farmland values increased almost 24-percent over last year to a new record high of an average cost of eight-thousand-296 dollars an acre.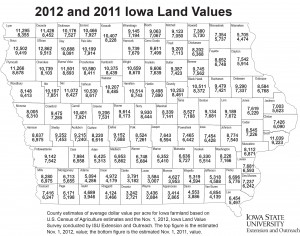 I-S-U economist, Mike Duffy compiles the numbers from the survey. "Basically what we found was higher-quality ground moving at a pretty good level, and lower quality ground not increasing so much," Duffy says. "For example northwest Iowa was up almost 34-percent, where southeast Iowa was up only nine percent." Duffy says record corn and bean prices are part of the reason for the increase.
"The commodity prices were a primary driver, another driver was the very low interest rates that we have. People also said lack of alternative investments was another reason," according to Duffy. The faster increase in the price of the better quality ground goes hand-in-hand with the amount of money to be made with the higher commodity prices.  "I think the higher quality ground is going to be less susceptible to weather problems for the most part, it's a more stable return if you will than some of the lower quality ground. And people are perceiving it to be a better buy than the lower quality," Duffy says.
O'Brien County had an estimated 12-thousand-862 dollar average value, the highest average county value. O'Brien County also had the highest percentage increase and highest dollar increase in value, 35-point-two percent and three-thousand-348, respectively. The 23-point-seven-percent increase marks the third straight year the land values have increased by 15-percent or more. Duffy doesn't agree with those who say the high price bubble of ag land is going to eventually burst. "I don't think that it's going to be a bubble pop. I think it would either be be more akin to a tire getting a nail in it, where we'll gradually adjust down. Or it may even be that we don't adjust down much, but the rate of increase will either slow or slightly go down," Duffy says.
He does think the double-digit increases in land prices may not last much longer. "I don't see any way that we can maintain the rate that we've had," Duffy explains. "The last three years we've increased almost 64-percent, and that's just not sustainable." He says the supply and amount of corn and soybeans that are grown will make an impact on the land prices moving ahead."The world is already responding by planting more, so we're going to see adjustments," Duffy says. "Now all that said though, the drought that we're experiencing right now is very serious. And what it portends for next year is kind of anybody's guess right now. But if we don't get rain, we're not going to have a crop. So it doesn't matter how high prices are."
In Cass County, the value of Ag land increased $1,426 over last year, to $7,984 per acre. In Audubon County, land increased just $25 shy of $2,000 per acre, to $9,215. In Adair County, land prices increased a little more than $1,100, to $6,425. In Adams County, the value of land went up a little more than $800, to $5,094. In Pottawattamie County, the price of land went up $1,600 from last year, to $9,142 per acre. Land went up nearly $1,800 in Shelby County to $9,262. In Guthrie County, the price went up just over $1,600 to $8,220. And, Montgomery County realized a $1,058 dollar price increase, to just over $6,710 per acre.
This is the highest state land value recorded by the survey and the first time county averages have reached levels over 10-thousand dollars an acre.
(Radio Iowa) (more info. at http://www.extension.iastate.edu/article/farmland-value-reaches-historic-8296-statewide-average)