Salvation Army Red Kettle Campaign underway in Cass County
November 21st, 2012 by Ric Hanson
The Cass County Salvation Army Chapter officially kicked off its Red Kettle Campaign last week.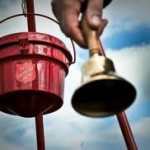 Teresa Kanning, Cass County Salvation Army Co-Chairperson says the event was held November 13th, at the Main Street Grill in Atlantic. Kanning says last year (2011), the Red Kettle Campaign raised more than $8,500, which was the largest amount ever collected for the Cass County Unit.  The money has been used for assisting individuals with food and shelter after being stranded in the area either due to bad weather or car problems, etc.
Kanning says over $6000 was used to assist with needs in the local area.   Programs receiving funds this year past included: Parents As Teachers – for books;  School Principals – receiviedgift cards for identified students in need and, the Camp with a Cop program. In addition, donations to the Red Kettle Campaign allowed each Cass County School district to receive book bags for distribution to kids, the Family Crisis Support Network received food, The Cass County Alternative School received funds for food and hygiene products as well as clothing, to assist students in getting a job, and, stethoscopes for students attending CNA classes
Kanning says the community has been very supportive of the Red Kettle Campaign in Cass County, and local organizers thank you for your donations, as well as those who volunteered to ring the bell last year. She said Duane McFadden and Dave Hancock have been instrumental in finding volunteers and making sure shifts have been covered, but anyone who would like to volunteer to assist in the Campaign this year, is welcome to call Duane McFadden at 712-781-2287.
Donations that are mailed-in, need to be marked as being for Iowa Unit #209. The Unit number should be indicated on the front of your check's "For" or "Memo" line,  or, on the online donation form, in order for it to be credited to the local unit. The money collected here locally stays in the community to be used to assist local community members.