No injuries reported after anhydrous tank overturns in Montgomery County, Wednesday
November 22nd, 2012 by Ric Hanson
The Montgomery County Emergency Management Agency says no injuries were reported after an anhydrous tank being pulled by a pickup, overturned Wednesday evening in an area near Villisca.
According to EMA Director Brian Hamman, the accident happened at around 4-p.m.   The tank was leaking after it overturned, but the leak was stopped after a valve was quickly shut off by Villisca Firefighters.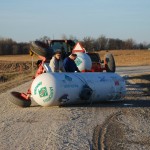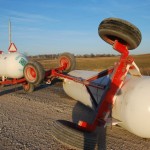 Hamman says the road remained closed while crews worked to upright the tank, and no evacuations were needed. No other information is currently available.