WEDNESDAY, OCTOBER 31st
October 31st, 2012 by Jim Field
WANTED:  1 or 2 bedroom house or Aptmt or Duplex in Atlantic or surrounding areas. Willing to take Sirha.  For 1 middle age person.  402-516-2973 in Atlantic.
FOR SALE:  Virgin Mobile- LG Optimus Elite (Android) Nationwide Sprint 3G Network Cell Phone.  Has a screen protector on and a green case.  No Contract………  Unlimited Web,Data,Messaging, and Email On all Plans……Unlimited is $55 A MONTH.  1200 MINS IS $45.  300 MINS IS $35.  Only a few months old .     $125.00  I live  in Atlantic also.  402-516-2973.
FOR SALE:  FULL SIZE LOFT BED WITH WORK STATION.  MATTRESS INCLUDED.  VERY STURDY AND IN GREAT SHAPE.  300.00  PLEASE CALL 243-7711.
FOR SALE:  TWO MOTORCYCLE HELMETS.  RARELY WORN.  50.00 EACH.  243-7711.
FOR SALE:  Ashley Sofa  $300…..always had a cover on….non smoking environment. Picture below, click to enlarge.  8″ Memory Foam Queen Mattress with platform frame …no headboard, also always kept a protection cover on it so like new.  $225.  Brinks security safe with combination lock and a key….$75.  712-435-9901.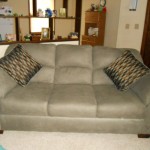 FOR SALE: Craftsman 2 stage, 21″ snowblower $150; used saddle, 15″ seat, refurbished with bar of saddle soap $100. 249-0233
WANTED: Used log splitter, prefer not homemade, will talk; cheap montana van in good shape, 140,000 miles or less. 712-304-4262 ask fo Mark.
FOR SALE:  Gift Certificate for one night's stay in luxurious, queen room at Hotel Greenfield, Greenfield, Iowa – $50  ($79.95 value).  Certificate expires January, 2013.  This certificate was won at the Iowa State Fair.  Please call 515-943-6471 if interested.
FOR SALE:  Really good hard firewood for sale call Chris for prices. U don't won't to miss out on this.712/249/2631.
FOR SALE:  Very nice Tools, 12″ DeWalt Miter Saw-150.00, 10″ 1/2 HP Craftsman Bench Drill Press 1/2 in. Chuck 125.00, Dremel Zig Saw W/ Light 75.00.  712-243-2918.
FREE:  36″ SONY Trinitron Television. Great pic and remote. Its heavy and
will require a pickup truck or van. call 712 773 2012.