Walnut City Council may act on Continuing Education Resolution
September 5th, 2012 by Ric Hanson
The Walnut City Council, Thursday, will consider and possible act on the adoption of a Resolution of Support for the Continuation of Education in Walnut.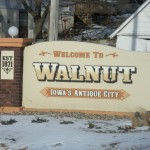 City Clerk Terry Abell told KJAN News not much is known about the resolution, except to say the City has been approached by a committee asking for the matter to be approved.
Abell said also, the Council will hear a presentation from Eagle Scout members Shea and Taylor Campbell, with regard to some sprucing-up projects in the City Park. The brothers are expecting to talk about painting fire hydrants and other such items in the park.
The Council will also discuss a possible streetscape enhancement project. The discussion involves Snyder and Associates Engineers, and the next, possible steps for downtown renovations, which have previously included the installation of old fashioned street lights, benches, and other amenities.
In other business, the Walnut City Council may act on a contract agreement for the hauling of residential solid waste, and, possibly approve the second and third readings of an Ordinance pertaining to the operation of golf carts on City streets. Abel said last month, that authorities in Pottawattamie County had been stopping people who were driving golf carts on the streets. She said there's a "glitch" in the law that requires communities to have an ordinance that allows the machines to operate on the streets. The Council is considering the adoption of a law that would allow that to happen.
The Walnut City Council meeting begins at 5-p.m., Thursday.