Fly Iowa event to be held Saturday, in Atlantic
September 14th, 2012 by Ric Hanson
Pilots from around Iowa and the Midwest will gather in Cass County this weekend for the annual Fly Iowa air show.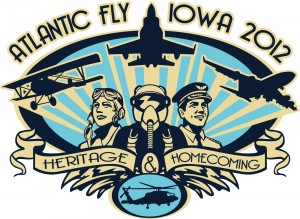 The free event takes place Saturday, at the Atlantic Municipal Airport, and begins with a brunch from 8-a.m. to 10:30-a.m. Garry Pellett is the local chairperson for the event. He says there'll be at least four World War II era P-51 Mustangs on-hand, including one owned and flown by Atlantic resident Mike Henningsen.
The Mustang, Pellett says, has a very distinctive sound. He says the aircraft are equipped with engines producing nearly 15-hundred horsepower, and they will literally "shake the ground," when they are warming up and taxiing for take-off.
But the Mustangs aren't the only vintage aircraft to take to the sky Saturday.
Pellett says a bomber scheduled to make an appearance can produce 54-hundred horsepower.   says an A-26 Bomber will be flying in from the south.
Aerobatic flying will be performed by Greg Koontz, from Alabama, who is one of the top performers in the country. Koontz will perform two shows, including a comedy act. The air show runs from 11-a.m. to 1-p.m.  There will also be static exhibits on the ground for people to enjoy.
Gary Maas, "Air Boss" for the event, says that includes helicopters, other aircraft, and various aviation and food vendors. Depending on the wind conditions, a tethered hot air balloon may available, along with helicopter rides, for a nominal fee. There will be plenty of activities for persons of all ages to enjoy. Maas says the theme for the event in Atlantic is "Heritage and Homecoming." He says it sets the event apart from other, previous Fly Iowa shows, by having people from southwest Iowa who have a career or experiences in aviation, invited to attend. Those persons have written about their experiences. Their bios will be on display and those individuals will be available for the public to speak with.
One person flying in for the event lives in Medford, OR., who is originally from Bridgewater, Iowa. He flew as a pilot for TWA, and will continue in his aircraft to Kittyhawk, NC for another air show, following the Atlantic show. Maas reminds those planning to attend to bring a lawn chair or blanket for your comfort, while you enjoy the show.